I have been meaning to start a thread on my Venturer project that I have been working on this winter.
I hesitated while I struggled to find a service to replace Photobucket. Imgur was NG for the purpose. Postimage works well so far.
So, here it goes.
You remember the beginning: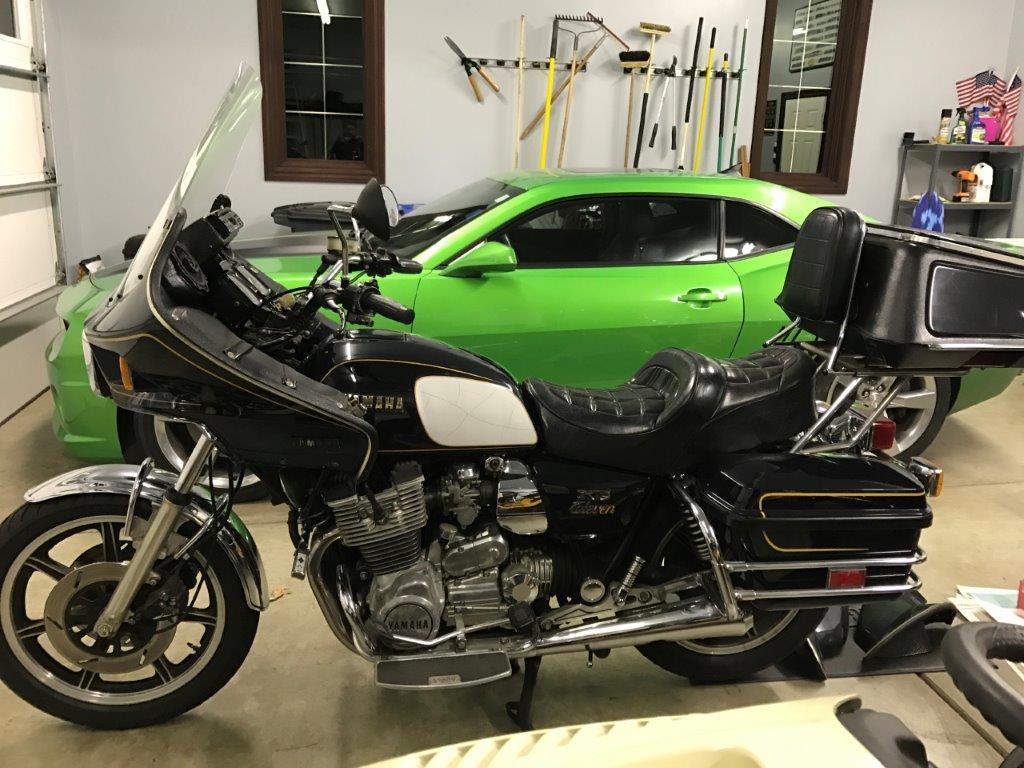 Not bad at all, compared to my previous projects.
Triage revealed a lot of modifications. The original owner obviously loved this bike and made several modifications:
(1) Air horn (covered in engine oil from the leaky CCT, and not working)
(2) Highway footpegs mounted on an aftermarket bar on the front of the frame
(3) Headlight ON/OFF switch
(4) Brackets welded to luggage rack for strength
(5) Vetter trunk, with lights brake lights and running lights always on
(6) Kickstand has huge washer neatly welded to the bottom for big footprint
(7) Starter button epoxied and rewired to a big pushbutton in the fairing
(8) Radio with rear mounted antenna
(9) Nifty, well-made, but funky footrests with forward controls: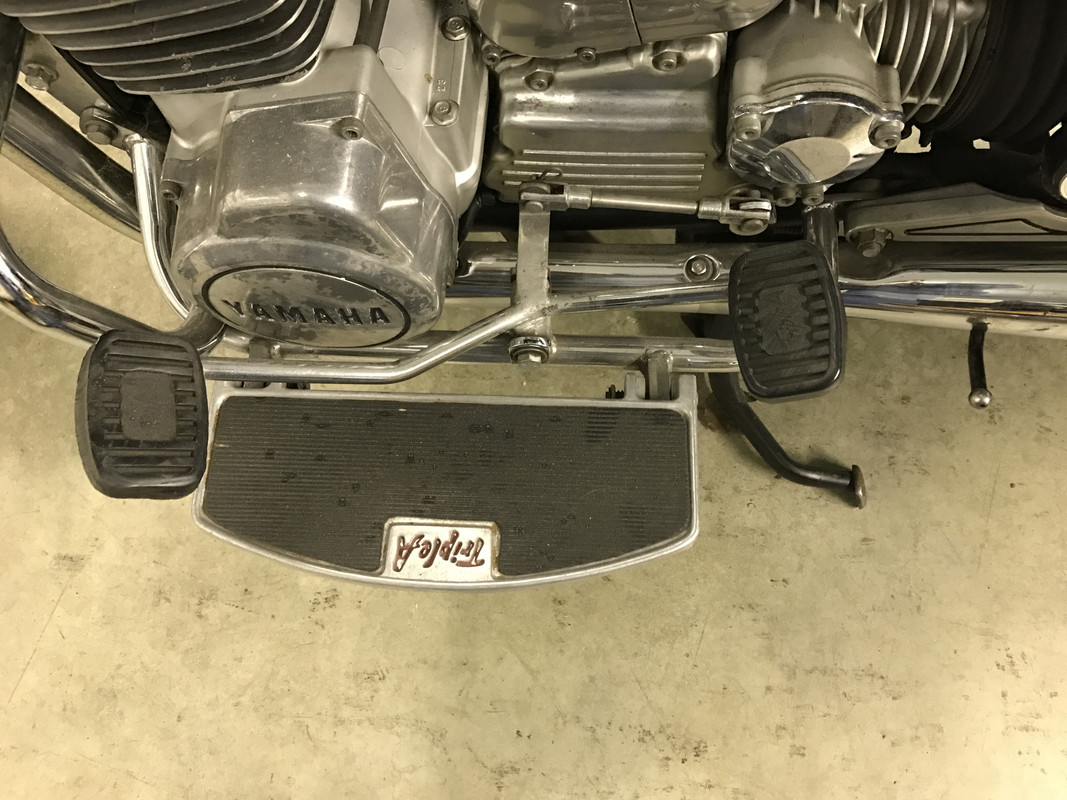 So, I first removed the things I didn't want to keep, (1),(2),(3),(7), and (9).
I drained the fluids and found the original owner or his son (my age) over-tightened and buggered the fill plugs. I had to buy new filler plugs plugs for the Final Drive and Middle Gear Case. I had to buy a new Oil Filter Bolt.
I adjusted the Valves and found they had been done before (minor scrape marks), and the generally one size tight. However the #4 Intake Valve had almost no clearance at all. Maybe the last person made a mistake?
When I put the Valve Cover back on, one of the Valve Cover bolts stripped and I had to install a Heli-coil

Previous owner seems to have a habit of over-tightening fasteners- I hope I don't find worse things later.
I pulled the Oil Pan and cleaned it out. I peeked at the Transmission. Everything looks good for 38k miles.
So, I decided to do the Front Wheel and Steering next: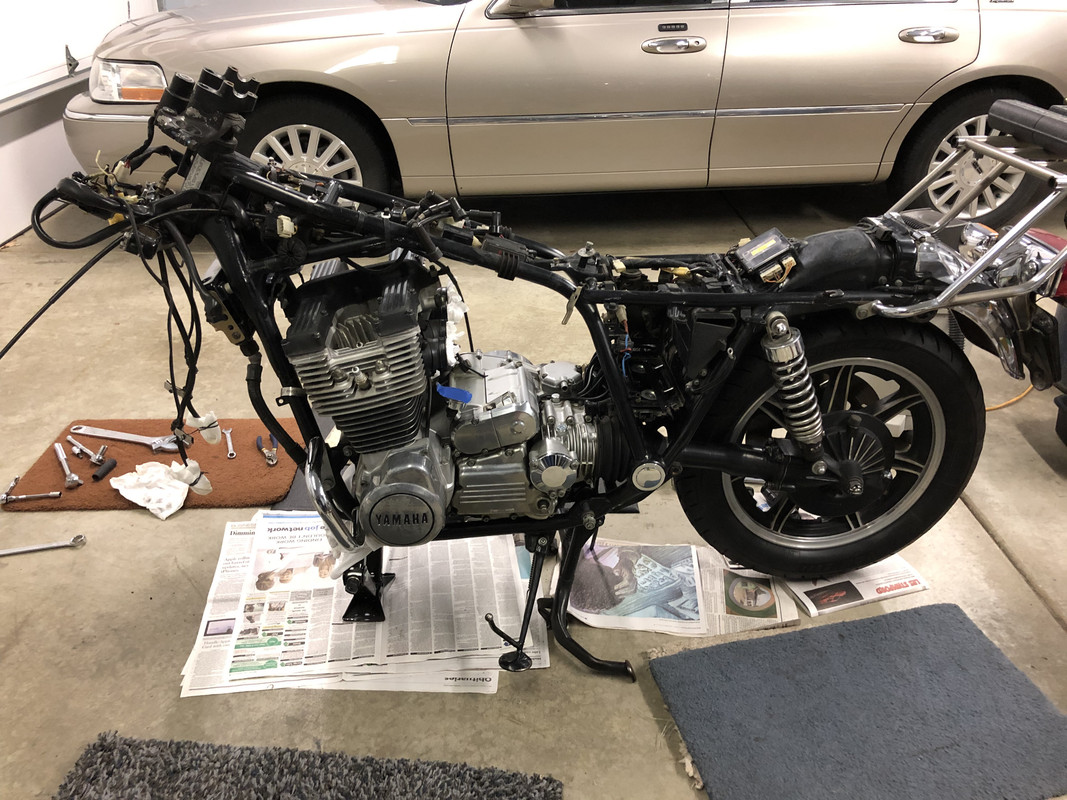 I put in new Steering Bearings, new Wheel Bearings/Seals, and a new tire. It was painful to throw out a tire with almost no miles on it circa 2004.
I cleaned out the Front Forks, installed new Seals and polished the lowers.
For a bike without a Fairing, the front wiring is in the Headlight. Since this bike has a Fairing, the wiring is stuffed into a vinyl bag. My PO liked to wash and wax his bike regularly. The bag got water in it and it stayed in there and corroded a couple of connectors badly. Also, the IGN Switch connector was cracked and held on with a zip tie; effective, but not good workmanship. I'll buy new connectors/terminals and make it like new again.
There's lot's of other stuff I can bore you with later.
Today's big questions:
(1) Did the Venturer come with these risers on the handlebars: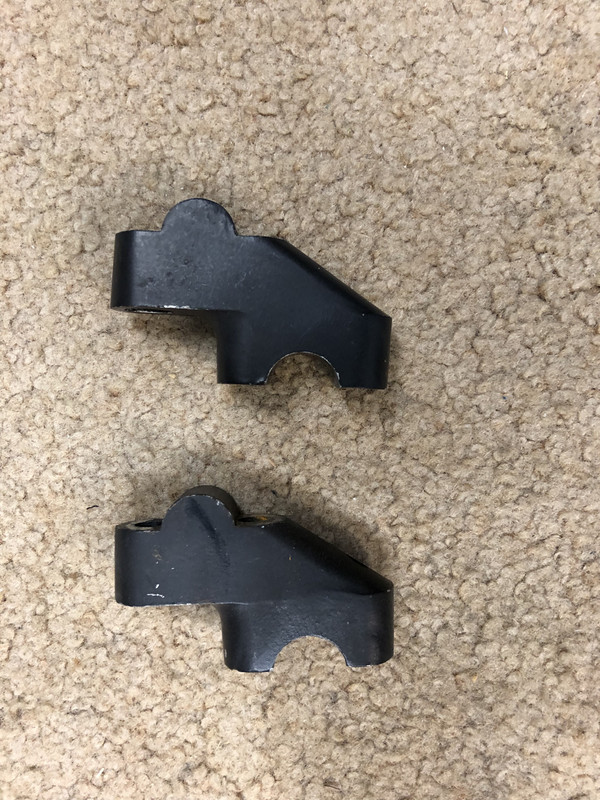 I am thinking to delete them.
(2) There are shims in each of the three Brake Calipers. The FSM suggests they are to prevent brake squeal. Mine don't looks so good and they are NLA. Nothing on eBay. Here is what they look like: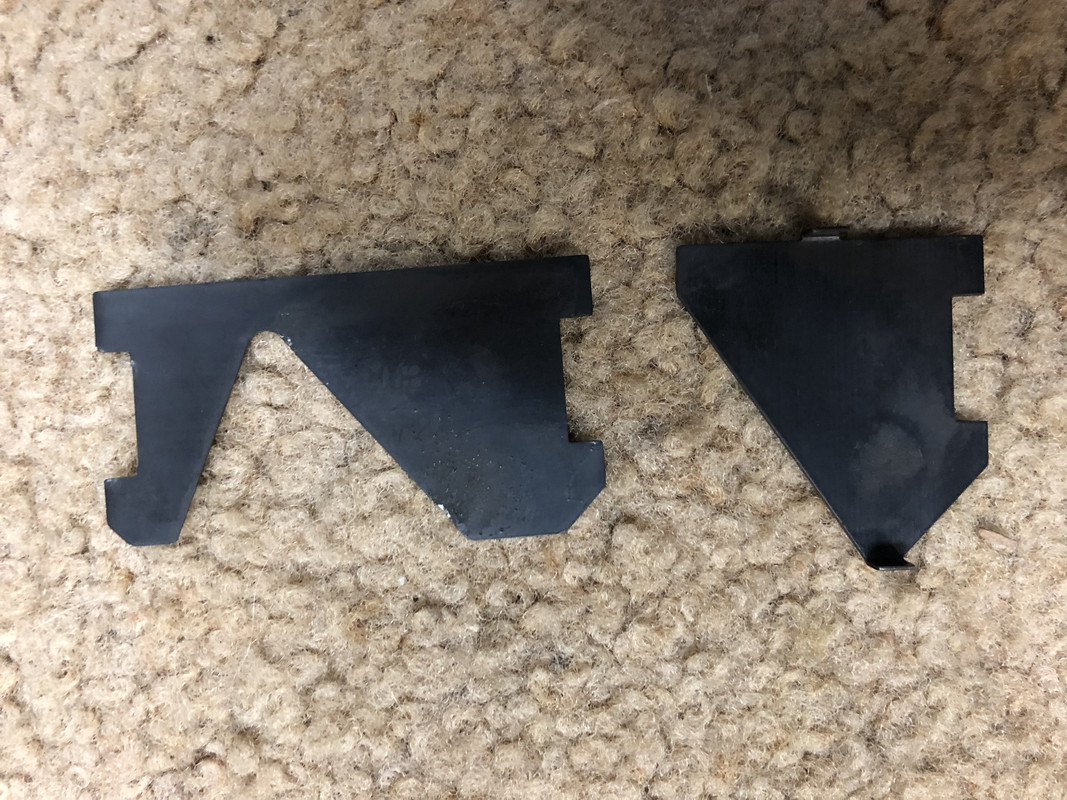 This is the nice-est example. I am thinking to delete them because the coating is worn badly where the Piston touched them, and there is rust in places. They just don't seem like something I want to put back into service. I've never had these shims on my Specials. I was able to find replacements for the Vmax. What do you guys do? Is it OK to delete them if I am using semi-metallic Volar pads, not screechy sintered pads?
(3) Did the Venturer come with an Oil Pressure Gauge? Mine has one but the plastic lens is cloudy from UV exposure. I wonder if it works. I hope to get it working and steal a lens from a flashlight or something similar. BTW, it is protected by the blue tape next to the Starter in the picture above.
That's enough to get my thread started. Maybe next time I can post some more pictures to get you up to speed with my project. Help is appreciated with my three questions.